Chiropractic Care for Whiplash After a Car Accident
If you have recently been in a car accident, the pain in your neck or upper back may be connected with whiplash. Only our Solon chiropractors, Dr. Reed and Dr. Grant can diagnose this injury and provide effective treatments. The sooner you schedule an appointment at Reed Chiropractic Clinic, the sooner we will be able to reduce your pain and help your body to heal.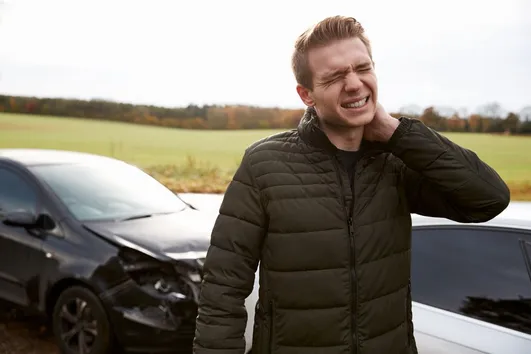 Even if you are not experiencing neck pain, but were involved in a head-on or rear-end collision, we encourage you to come in for an evaluation. It is during this two accident that whiplash most likely occurs since your head continues to move forward when your body is suddenly stopped. Then, your head is snapped back into place which can damage the muscles, vertebrae and connective tissue in your neck and upper back. Along with pain in your neck, other whiplash symptoms can include nausea, dizziness, fatigue, eye strain, and limited head-turning ability. If left untreated, these symptoms can worsen or remain for an extended period of time.

Natural Whiplash Care
Chiropractic care at Reed Chiropractic Clinic is a natural approach to healing whiplash after a car accident. Our doctors believe strongly in the body's ability to heal itself and they use chiropractic adjustments to position your neck for the best healing. If you are suffering from whiplash, the vertebrae in your neck may have slid out of alignment and can press on the nerves. Our chiropractors gently slide the vertebrae into a stable position that eliminates this pressure and improves healing. Your recovery time is shortened since circulation flow is improved, which brings healing nutrients to muscles, discs and connective tissue. While you are healing, your pain is reduced when our chiropractors eliminate the nerve interferences. Along with chiropractic adjustments, we use cold laser therapy to stimulate muscle healing in your neck and upper back. We may also suggest massage therapy to reduce inflammation and eliminate scar tissue build up. Our services work together to shorten your recovery time and prevent lasting pain. At first, our chiropractors may request frequent visits to reduce pain and inflammation. As your body recovers, your appointments may be less frequent depending on how your body responds.
Call our Solon Chiropractor Today for Whiplash Relief
Whiplash, when left untreated, can lead to lasting pain and limited mobility. We want to show you a better way. As soon as possible following your auto accident, please let our chiropractors evaluate your condition and determine how chiropractic care will benefit you. Whiplash responds quickly to chiropractic treatment that targets the bones, muscles and connective tissue in your neck and upper back. Our chiropractors work on positioning your body to heal properly and quickly. Plus, our treatments are effective and safe for all ages, so if your child or adult parent is struggling with whiplash, please bring them in. To schedule your whiplash relief appointment, please call us today at (440) 248-2866.